If you want to achieve your ideal healthy optimum weight, gain a greater understanding of what foods work for and against you and feel fantastic then booking an appointment with our qualified nutritionist is your first step on the road to better health.
What is Nutrition
At Vital Chi our nutritionist takes a comprehensive look into your dietary habits, health and lifestyle and gives you qualified and comprehensive advice on how to better correct your habits to get your food to work for you, rather than against you. Nutrition is the science of food and diet, the saying "you are what you eat" is the foundation of nutrition. Nutrition also focuses on ensuring you have the ideal levels of all necessary nutrients, vitamins and minerals to ensure the optimal functioning of your body.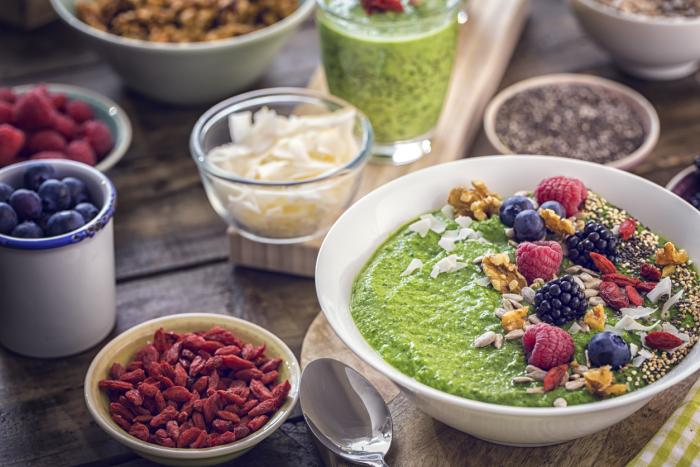 We can all do with help in improving our diets, so if you've ever wondered:
What is the best diet for me?
Which foods should I be eating?
How much protein should I eat?
Do I have allergies to some foods?
How do I lose weight?
Should I avoid carbohydrates?
Our qualified nutritionist can answer these questions for you.
"Let thy food be thy medicine and thy medicine be thy food." – Hippocrates
Why is Nutrition so Important?
Nutrition is present in all processes of life. Right from the very moment the sperm fertilizes the egg, through fetal development in the uterus, to birth, human growth, maturity, old age, and eventual death. Anything that lives is dependent on energy, which results from the combustion of food.
Nutrition is required for it all. Anything that involves life has nutrition at its core. Most health conditions and diseases start from nutritional imbalances, getting your nutrition right is the foundation of good health, wellness and vitality.
What Results Can I Expect?
Your qualified practitioner is an expert in finding out what nutrients you are deficient in and what the underlying cause to your condition may be. Once these are addressed in combination with specific dietary changes, your body will be provided the appropriate nutrition required to heal itself. This will lead to substantial improvements to your overall health and vitality.
Common Conditions Treated or Relieved by Better Understanding Nutrition
Nutrition is the foundation of good health, as such everyone could benefit from a nutritional overhaul. Some conditions that respond exceptionally to nutritional changes include:
Food allergies and sensitivities
Digestive issues
Weight Loss
Diabetes & Insulin Resistance
Fatigue
Candida
Cardiovascular heath, High cholesterol
Lowered Immunity
And many more…
Specific dietary advice and support can be provided for:
Particular diets including
Lactose, Gluten and Fructose free diets
Low glucose diets
Low allergenic diets
Anti-inflammatory diets
Vegetarian and vegan diets
Testimonials
I was in the midst of a personal crisis, or what I believed was a personal crisis, I turned to Daniel for help, and was introduced to MiCBT... MiCBT taught me how to deal with negative thoughts, in a positive way, without medication. MiCBT is now in practice every day of my life, I owe a lot to its teacher, and its design.
Our business would not be the same, the magic you wield and the results you have made with us are truly incredible. You have an amazing ability to get to the core of a situation and gently but firmly guide us to resolve and heal this.
I am no longer on painkillers and I haven't had to go to the hospital. The pain is something in my past. The pain relief wasn't immediate but I had waited 15 years so for me it was immediate. I noticed a decrease in pain straight away and it continued to lessen as time went on.
Exactly what I wanted, I blissed out and relaxed, what a great way to start the weekend. I loved the dim lighting, soothing music, warm towels and warm massage table... brilliant practitioner and friendly, professional atmosphere.
I have been hive free for over three months and I am able to reintroduce the foods that were causing problems as well as continuing on important supplements and vitamins that promote a good immune system and nutrients. I have not felt this good in a very long time. I am completely back to the confident and happy person that I have always been.
After my treatment I felt like my whole body was moving and supporting itself to move more naturally.
As my naturopath, confidant, and mentor, Daniel has guided me to explore all of life's possibilities and strive for freedom. For his unconditional support and encouragement, I will remain eternally thankful.
I feel the best I have felt in years. I have more energy and my mood and concentration have improved considerably. Not to mention getting my cycle back which I hadn't had for a couple of years.
Start Your Wellness Journey
Call or Visit
We welcome all enquires and bookings.
Mon & Fri 9:00am – 6:00pm
Tue, Wed & Thur 9:00am – 7:00pm
Sat 9:00am – 2:00pm
Sun Closed
Send Us A Message
Enquire about any of our services and book a consultation with one of our specialist therapists.