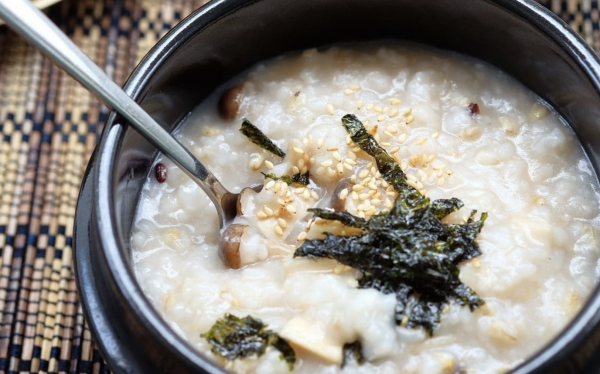 Chicken Congee for Hyperthyroidism
If you have a dysfunctional thyroid or struggle specifically with a thyroid disorder such as Hyperthyroidism, Hashimoto disease or Graves' disease this delicious Chinese style dish, by our Melbourne Thyroid Specialist Lina Capovilla is perfect! It is both soothing and nourishing and perfect for the colder winter months. It contains selenium (found in sesame seeds and mushrooms); tyrosine (chicken); and iodine (in seaweed flakes); which are required for thyroid hormone production. The dish also freezes well, so you can make a big batch and re-heat at a later date.
 Serves 4
Ingredients:
▪️ 1 organic free-range chicken, weighing around 1.5kg
▪️ 200g long-grain or basmati brown rice
▪️ 5cm piece of fresh ginger, grated
▪️ Chopped veggies of your choice (e.g. carrots, celery, onion)
▪️ 1 cup button or shitake mushrooms, chopped
▪️ 1 TBS organic tamari soy sauce
▪️ 1 TBS sesame seed oil
▪️ Sea salt and freshly ground cracked pepper
▪️ 2 TBS sesame seeds
▪️ 2 TBS spring onions, chopped (to serve)
▪️ 2 TBS fresh coriander leaves, chopped (to serve)
▪️ Dried seaweed flakes (to serve)
Method:
Place the chicken, rice, ginger in a large heavy-based saucepan with a lid.  Cover the ingredients with filtered water and bring to the boil.  Reduce heat to low and gently simmer for 2-3 hours, adding the vegetables (including the mushrooms) 1 hour into cooking. The soup is ready once the chicken meat is falling off the bones and the rice is cooked through, and the congee has a thick soup-like consistency. You may need to add more water whilst cooking to prevent the congee from boiling dry. 
Once ready, remove the saucepan from heat. Transfer the chicken to a plate, carefully remove the bones and skin. Shred the chicken meat and return to the pot.  Add the tamari soy sauce, salt and pepper, sesame seed oil and sesame seeds and stir to combine.  Divide the congee between 4 serving bowls and garnish with spring onions, coriander, and seaweed flakes, and serve.