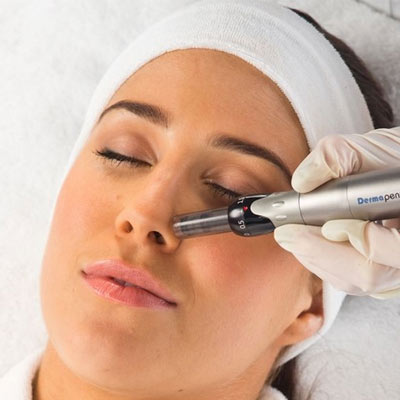 Introducing our new skin service: Skin Needling also known as Collagen Induction Therapy
Collagen Induction Therapy (CIT), also called 'medical skin needling' or 'micro-needling', is a non-invasive treatment designed to improve the appearance of your skin. It stimulates the body's natural collagen production and activates the skin's natural regeneration response.
The treatment involves a medical-grade pen with tiny micro-needles which create tiny, evenly-spaced, puncture wounds when moved over the skin.
The pen has variable needle depths and speeds. Differing depths are used during the treatment, to ensure the right skin cells are being triggered.
WHO IS SKIN NEEDLING (CIT THERAPY) SUITABLE FOR?
CIT is suitable for all skin types. It doesn't sensitise your skin or make you sun sensitive.
CIT has been clinically proven to benefit skin concerns including:
acne scars
hyperpigmentation
fine lines/wrinkles
rosacea
loss of adhesion and elasticity
photoageing
stretch marks
We use the Exceed pen by Amiea Med. It has been cleared by the U.S Food and Drug Administration (FDA), and the Australian Therapeutic Goods Administration (TGA). This device is clinically proven to treat acne scarring, helping to reduce the depth of scars and normalise skin structure.
To ensure the best results from CIT, we recommend having a detailed skin analysis beforehand to discuss correct topical and internal nutrition. We'll devise a personalised regime to help you regain skin health, naturally.
Whether you experience acne, rosacea, eczema, dermatitis, psoriasis or any other skin disorder, or are looking to slow the signs of ageing, we can help you discover the underlying triggers of your skin concerns.
WHAT EXACTLY HAPPENS DURING A TREATMENT?
Once we prepare your skin for treatment, the procedure takes around 30 minutes. There are frequent short breaks as we systematically work on your face, neck and décolletage with the needle.
After treatment, we'll soothe the skin with an anti-inflammatory, microbiome mask (Epi-Nouvelle+) to help you feel comfortable, cool and hydrated.
WHAT IS THE RECOVERY TIME?
Recovery time is minor, especially compared to laser treatments. You may be pink for 12-24 hours and need to avoid direct UV rays for 2-3 days, but otherwise, your skin will appear normal. 
DOES IT HURT?
The procedure is a little painful, but less painful than getting a tattoo. Generally, we choose to forgo toxic topical anaesthetic and numbing agents due to their detrimental skin ingredients, but if the pain is a concern we'll take it into consideration.
You'll feel warm and tingly during and after your session (similar to a mild sunburn). This usually subsides after an hour or two.
To find out more about how Collagen Induction Therapy can benefit you, call to book a free 15-minute consultation with Naturopath and Skin Specialist Emily Segal.
This article was written by Emily Segal, Melbourne Naturopath and Skin Specialist Therapist at Melbourne Wellness.