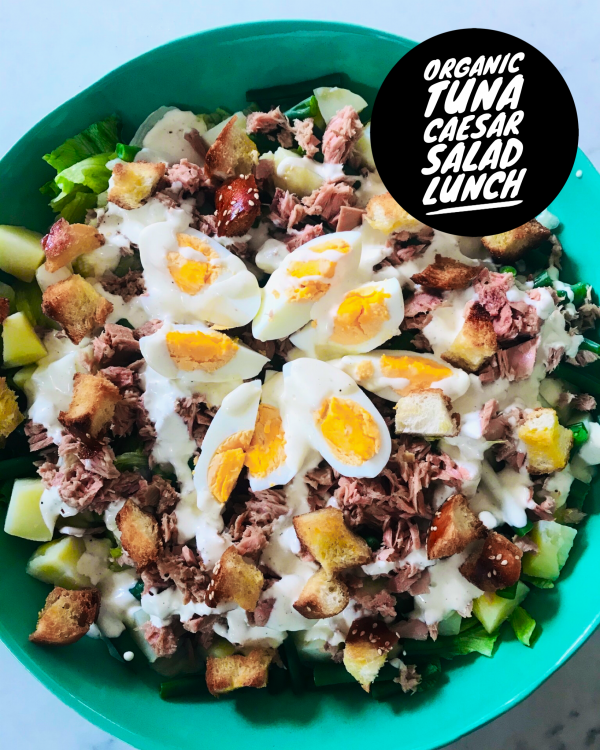 This recipe by our Naturopath and Skin Specialist Emily Segal is easy to whip up and perfect for the warmer spring weather! This would make a filling lunch, or a delicious side for weekend dinner.
Ingredients:
Salad
1 organic cos lettuce, shredded
2 x 200g jars of sustainably sourced tuna 
2-3 organic, free range eggs, boiled and chopped
2-3 potatoes, boiled and chopped
2 cups lightly steamed beans, chopped 
Homemade rice bread or any gluten-free bread
Salt and pepper, to season
Mayonnaise dressing 
1 whole egg
1 tbsp of wine vinegar 
1 tsp of mustard 
1 tsp of lemon 
1-2 tsp avocado oil 
Method 
Preheat the oven to 180°C. Chop bread into small chunks and add to a baking dish, season with olive oil and garlic salt, and bake in the oven for 5-10 minutes until crispy.

Meanwhile, make the salad dressing by processing the egg in a food processor for 20 seconds. Add wine vinegar and mustard and process for a further 20 seconds. Then add 1/2 tsp of Avocado oil at a time, until you get desired consistency.

Assemble salad by adding cos lettuce, beans and potato to a bowl, toss to combine and season with salt and pepper. Top with tuna, eggs, potatoes and croutons. Drizzle over mayonnaise dressing. Enjoy!