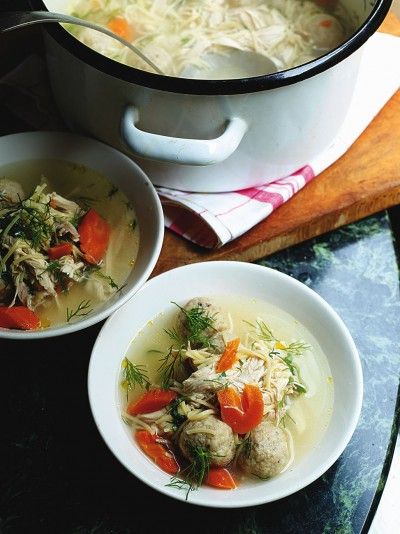 This recipe, by the legend Jamie Oliver, contains ingredients which are antiviral, anti-inflammatory and anti-oxidant and is a perfect warming dish that can help alleviate the aches and pains of winter. For a plant based version, replace the chicken with chickpeas, lentils or beans and use vegetable stock. 
Ingredients
1 x 2.5 kg free-range chicken

3 medium onions, peeled and roughly chopped

3 carrots, peeled and roughly chopped

3 sticks of celery, roughly chopped

4 cloves of garlic, peeled

4 fresh or dried bay leaves

3 -4 sprigs of thyme

2 handfuls of egg, rice noodles or gluten free spaghetti

1 small bunch of fresh parsley

1 small bunch of fresh dill
 Method
Rinse chicken in cold water, pat dry with paper towel, and place into a large stock pot. Add cold water until the pot is filled 8-10cm above the chicken. Bring to the boil, then turn heat down and simmer for 30 minutes. Skim the froth and impurities off the top of the soup every so often.

Add chopped vegetables, garlic, bay leaves and thyme to the stock pot, with a generous pinch of sea salt. Bring water back to the boil, then turn the heat down and leave to simmer for 1 hour. Continue to skim the impurities from the top of the soup.

When the soup has been on for 1.5 hours, use tongs to carefully transfer the chicken to a roasting pan. Leave to cool, uncovered, for a few minutes. Remove the soup from the heat and strain it through a sieve or colander. Pull out vegetables that look decent and add back into the soup, discard everything else. Put the pan back on a medium heat and bring to the boil, add noodles or spaghetti to the pan and cook for the 10 minutes.

When your chicken has cooled enough to handle, use two forks or tongs to shred the meat from the bone. Add to a plate and discard chicken skin and bones. Roughly  chop parsley and dill. Add shredded chicken to the soup with chopped herbs, and warm through for 3 minutes. Taste and season with salt and pepper if needed. 
Recipe and photo credit: Jamie Olivers' penicillin soup