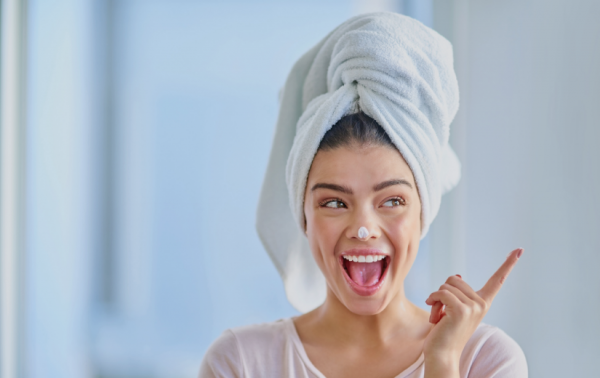 We know that finding the right skincare routine, and then sticking to it, can be really difficult. That's where we come in! Our Naturopathic Skin Specialists use Corneotherapy and herbal medicine to get to the root of your skin complaints and heal you from the inside out AND the outside in. Our treatments are comprehensive, thorough, and most importantly, tailored to your wants, needs, and lifestyle.
If this sounds like what you've been looking for, read on for our tips on how to level up your skincare routine and have the best skin of your life! 
1. Simplify Your Skincare Routine
The most effective skincare routine is a simple one, with well thought-out active ingredients. All too often I see people in the clinic who are over-masking and over-peeling in the pursuit of glowing skin. Too many active ingredients, such as hydroxyl-acids and retinols, at different steps in your routine can really disrupt the skin barrier, worsen redness and increase sensitivities.
2. Incorporate A Good Quality Vitamin C Product Into Your Skincare Routine
Whatever your skin type, I love Vitamin C for its brightening and glow-
boosting effects. When formulated correctly like the Dermaviduals Liposomal Vitamin C, it acts as a potent antioxidant that fights the first signs of ageing and hyperpigmentation.
3. Apply SPF Daily
That's right every day! Cloudy, windy or sunny, be sure to always apply sun protection. We love the Dermaviduals Suncream SPF 15 or 30 plus because it is light weight and has a direct affinity to the skin's structure and function, allowing your makeup to sit beautifully on top. It's so important to protect your skin and face from the sun's UV rays. Sunscreen used consistently overtime will significantly reduce early signs of ageing, pigmentation and environmentally damaged skin.
4. Eat For Your Skin
After the indulgences of Christmas and New Year, we can all look a little more sallow and tired. Increase your antioxidant intake by eating lots of brightly coloured fruits and vegetables. Anti-oxidants work in the deeper layers of the skin to protect collagen from ultraviolet light and damage from environmental factors, such as pollution. Remember that the darker in colour your fruit and vegetable is, the more antioxidant rich they will be. Also pay attention to your intake of good fats - oily fish, such as salmon, is a great source of omega 3 and protein, but if you're vegan or vegetarian, add cashew nuts, flaxseed oil and or consider supplementing with Algae Omega 3 daily. As always, hydration is super important for glowing skin - you can always add cucumber, lemon or mint to your water to make it taste more interesting.
5. Consistency Is Everything
Our skin loves consistency. It might be tempting to switch up your products regularly, but getting into the groove with a simple routine that works is worth its weight in gold. Cleanse twice daily; if you wear make-up, make sure you double cleanse or try the new Dermaviduals Essential Cleansing Cloth - you will use way less product with removing makeup, build-up of daily grime and excess sebum. Follow with your favourite antioxidant serum, moisturiser and SPF in the morning and consider a richer moisturiser at night. Extra products can be introduced, depending on your skin's specific needs. For example, LCP serum by Dermavidual's- (rich in Azelaic acid) is a great addition for skin that's prone to redness, Green Tea Extract can help tackle pigmentation, Lotion P is rich in Linoleic acid (Vitamin F) that helps regulate skin cell function and is a potent anti-inflammatory agent!
The Naturopathic Skin Specialists at Melbourne Wellness are here for you. Check in with us regularly so that we can update your skincare prescription and ensure that your skin is balanced and glowing throughout the year!
Written by Skin Specialist and Naturopath, Emily Segal