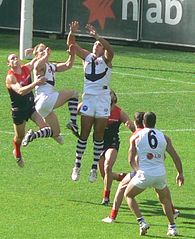 Footy's in full swing and no matter which code you follow, Chiropractors are treating a surge in sports-related injuries. Aussie Rules tops the injury list with rugby, soccer and netball also taking a toll on players during the pre-season and early rounds. Footballers in Australia have significantly more severe and frequent low back pain compared with non-athletes and this escalates with the level of competition. In Aussie Rules the injury toll is high, even amongst the amateurs with 27% reporting long term or recurrent back problems. In elite soccer, low back pain is the most common injury reported. Back injuries have the highest rate of recurrence for all injuries in elite rugby players.
Shoulder injuries are also prevalent amongst rugby league players. So what can be done about this? Research is showing that sporting injuries (particularly hamstring injuries) could be dramatically reduced through the inclusion of chiropractic care. This research done on VFL players also demonstrated significant reductions in non-contact knee injuries, low back pain and showed improvements in physical components of health.
Chiropractic is a great way to keep progressing with your sport, fitness or exercise. Just as regular exercise is beneficial to our health, so are regular chiropractic adjustments. Muscular imbalances, altered spinal curves and tension rob your body of energy. Chiropractic care improves spinal function and relieves interference to your nervous system. This enables the body to function more effectively, making it efficient in providing us with energy.
No matter what sport you play, your body may be placed under structural stress. If it has been sometime since you have participated in sport or exercise, it's important to slowly re-introduce it to your routine. It's also worthwhile to touch base with your Chiropractor to ensure your body is functioning at its best – improving performance and reducing the risk of injury. Other important factors that can improve your ability with sport and exercise include: good nutrition; appropriate warm up and warm down protocols including stretching after a game; being prepared with a proper training regime; and hydration on the field.
Are you keen to have your body functioning at its best? Do you know someone who may benefit from Chiropractic care? Why not book them in for a FREE 15min Spinal & Postural Assessment! This is a great way to find out the condition of your spine and postural alignment and to learn how your posture can affect your overall health and wellbeing. Dr Megan Azer