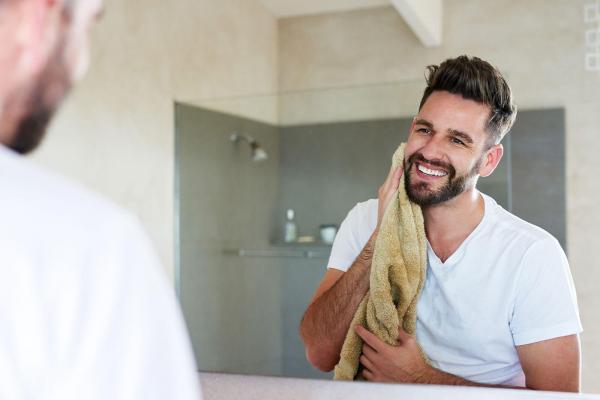 Our skin is the largest organ, and like any part of the body, it needs daily preventative measures to keep it healthy. This is no different to weight-lifting, cardio and eating right to keep your body in shape.  A daily skincare routine will not only keep your skin clear and bright, but protect you from environmental elements and help you avoid early formation of wrinkles. 
Before you steal your girlfriend's or wife's skincare, there are a few major differences you need to consider: 
Men have much higher levels of two hormones: androgen and testosterone. These hormones create higher oil and sweat production. This combination with facial hair growth can create a higher incidence of acne, pimples - particularly during and after adolescence. 

Men have thicker lipid films on the skin which may cause ingrown hairs and enlarged pores.

Men shave routinely which leads to dry, irritated, itchy skin, as it removes the outer protective layer of the skin that helps to lock in moisture. So greater hydration to maintain suppleness is required. 
There are 3 products by Dermaviduals Skin Care, that we stock at Melbourne Wellness, that are very popular with male users and cover all men's basic skin care needs:
Total Cleansing Cream: this is a multi-action time saver - it's a shaving cream, shampoo, face and body wash all in one and is especially good for sensitive skin. 

Liposome Concentrate Plus: this is a highly anti-inflammatory, anti-bacterial serum to help soothe skin after shaving. It helps treat razor bumps, lumps, enlarged pores and sensitivity. 

DMS High Classic: this product is a non-greasy moisturiser that supports water balance and regeneration of the skin. It also provides superior protection against environmental damage. 
As part of men's health month, we're offering a FREE 20 minute skin analysis appointment for all new male client's (can be via cliniko online or in clinic) where our Skin Specialist and Naturopath Emily Segal will create an easy, personalised skin care regime considering the differences listed above and your individual skin needs. Email info@melbournewellness.com.au!