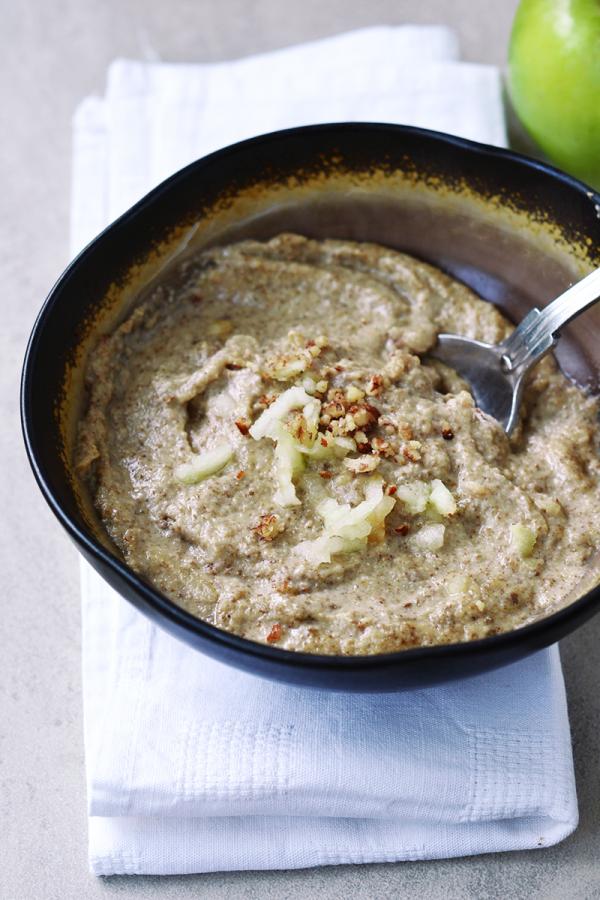 This recipe is warming and satisfying and helps to balance female hormones. It contains ingredients which reduce inflammation (the underlying driver in many hormonal disorders), support estrogen and progesterone production, help regulate menstruation, and boost mood (useful if you suffer from PMS). Be creative with changing the flavours: add turmeric, ginger and pepper for an anti-inflammatory boost, or try cacao, maca and blueberries for an antioxidant hit!
Serves 1
Ingredients
Seed Mix
1⁄4 cup flaxseeds/linseeds

1⁄4 cup sunflower seeds

1⁄4 cup sesame seeds

1⁄4 cup pumpkin seeds
Porridge
1 cup pre-cooked brown rice, quinoa or millet (stored in fridge)

1/2 grated apple

Fresh grated ginger

½ cup rice or almond milk

½ tsp cinnamon
Method
Grind seeds (for seed mix) separately in coffee grinder or food processor until they resemble coarsely ground coffee. Mix seeds together, set 2 tablespoons aside and store the remainder in an airtight container in the fridge. 

Add grated apple to a small saucepan with a splash of water. Stew for 10 minutes over low heat until soft, adding water as necessary.

Once apple is cooked, add grain of your choice (rice, quinoa or millet) with rice or nut milk, ginger, and cinnamon. Heat until warmed through.

Remove porridge from heat and transfer into a bowl. Top with 2 tablespoons of seed mix. Add 1/4 teaspoon of Manuka honey if needed for sweetness. Enjoy!
This recipe was created by our Melbourne Naturopath Shiho Mafune, who specialises in Woman's Reproductive Health including Fertility (Preconception and Maternal care), PCOS, Endometriosis, PMS and Menopause. Call 9894 0014 to book an appointment with Shiho.