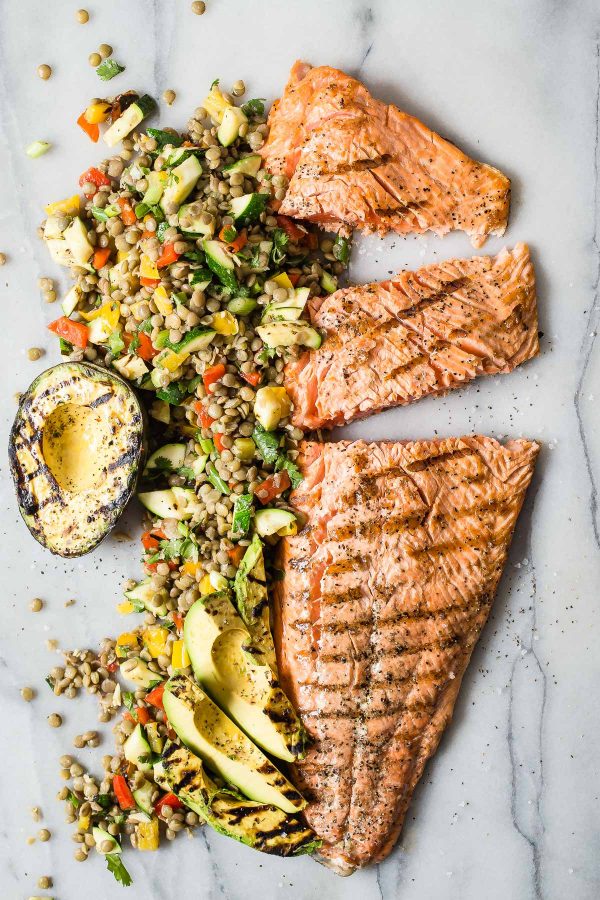 This recipe contains omega 3 fatty acids, mono and polyunsaturated fats, antioxidants, B vitamins, and fibre which all support heart health. Try it for a mid-week dinner, or make for a dinner party on the weekend.
Serves 3-4 
Adapted from recipe by foodnessgracious
Ingredients
Salmon
1 piece large Salmon whole or 4 salmon fillets 
4 tablespoons extra virgin olive oil, seperated
Sea salt and black pepper, to season
1-2 cloves garlic, crushed
2cm piece of ginger, grated
Lentil Salad
1 cup green lentils (soaked overnight in filtered water)
3 cups chicken bone broth/stock
1 cup water
1 red capsicum, chopped 
1 yellow capsicum, chopped 
1 zucchini chopped into small pieces
1 avocado halved
¼ cup green onion, chopped
¼ cup cup walnuts or almonds, roughly chopped 
Two handfuls spinach
Dressing
1/4 cup apple cider vinegar
2 tablespoons chopped fresh basil
Salt and black pepper, to taste
1/3 cup extra virgin olive oil
1. Preheat oven to 180 degrees celsius. Place the capsicum and zucchini on a large tray. Drizzle the veggies with 2 tablespoons of olive oil and season with salt and pepper. Put into the oven (once heated) and bake for 20 minutes.
2. Meanwhile, drain lentils. Add to a saucepan with the broth/stock and water and bring to a boil. Reduce to a simmer and cook for about 15 minutes (until soft). Drain, rinse with cold water, set aside.
3. Add all dressing ingredients (except oil) to a blender or food processor and mix until combined. Slowly add the olive oil until well mixed. Set aside.
4. Combine 2 tablespoons of olive oil, salt and pepper, garlic and ginger in a small bowl. Rub on each side of the salmon fillet/s. Remove veggies from the oven and allow to cool.
5. Warm a fry pan or grill over medium-high heat. Place the salmon skin side up and cook for around 8-10 minutes. Flip salmon over and cook on the other side, until just pink in the middle. Remove from heat and let it rest, covered with some foil.
6. Add veggies to a large stainless steel bowl with green onion, nuts, spinach, lentils, and dressing. Toss to combine. Cut avocado in half, or into slices.
7. Serve salmon with salad. Enjoy!
If you want to learn more about what heart healthy foods to include in your diet, make an appointment with a naturopath at our Melbourne Wellness Clinic today.