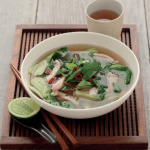 Delicious detoxifying, warming Vietnamese style soup.
Now being on a detox does no have to be boring, quite the opposite. It's a time when you can really nurture your body with delicious wholesome foods whilst enjoying quiet time, taking time to relax, retreat from the hectic world a little and spend some time nurturing yourself.
This is a delicious soup that's warming and great for detoxifying. It's filled with foods that are detoxifying and nutrient rich. Highly detoxifying is broccoli and cabbage, which contains a compound called indole-3-carbinol and sulforaphane. These support liver detoxification and helps to rid the body of excess hormones and toxins and harmful, cancer-causing compounds. Garlic is highly immune boosting and contains antioxidants, which fight the free radicals in your bloodstream that are responsible for some of the effects of ageing, as well as being linked to certain kinds of cancer and heart disease. Ginger is warming and highly anti-inflammatory and astringent. To name a few.
Ingredients 
1 whole chicken (approx 1.6kg)
2 white onions finely chopped 
3 garlic cloves (optional) 
5cm knob piece ginger finely chopped 
2 cinnamon sticks 
6 Cardamon Pods 
3 star anise 
1 medium sized chili chopped (optional) 
2 tbsp Fish Sauce 
1 tspn salt 
4 tbsp crisp fried shallots (optional) 
300 grams brown rice noodles (optional) 
200g bean sprouts 
Bunch Coriander, vietnamese mint &/or Asian basil
VEGETABLES
Add as many as you like- Asian veggies work really well Carrots – julienned (cut lengthwise like match sticks) Zucchini – finely chopped 1 bunch baby bok choy, trimmed and leaves separated Capsicum – red or green – finely sliced Broccoli – finely slice stalk and cut up the little florets Green beans Snow peas – finely sliced – Lime wedge to serve
Method 
Rinse chicken and add to pot with 2 litres of water (enough to cover) Bring to boil Add onions, ginger, cinnamon, cardamom, star anise & salt. Simmer for 30 minutes then, remove chicken and set aside. Strain broth, add fish sauce and half shallots Place on heat (simmer) and add veggies, add the ones that take longer to cook first then the others. Remove chicken flesh and finely slice Cover rice noodles with hot water to cook, strain Add noodles into soup, along with sliced chicken. Top each serve with shallots, been sprouts, coriander, mint, basil, chili and lime. This soup freezes really well. Just omit the bean sprouts.