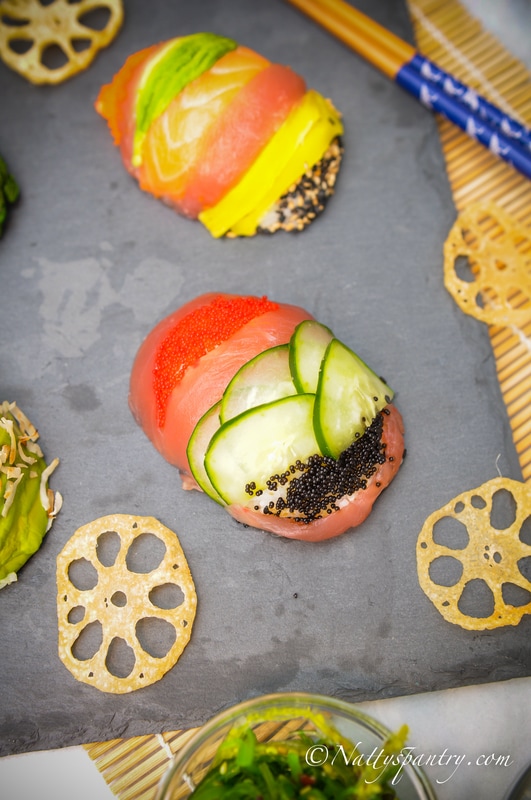 This recipe, created by our Naturopath Shiho, is a healthy alternative to the traditional sugar laden Easter treats you usually find in the supermarket. The kids will enjoy assembling these Easter style sushi treats, and you can rest assured knowing you're providing your children with a nourishing and fun Easter meal/snack!
Ingredients:
½ cup brown rice and ½ cup quinoa (soaked overnight in filtered water)
2 cups of water
100g shitake mushrooms, sliced
2 tablespoons apple cider vinegar
200g wild caught salmon, fresh
2 nori sheets
2 small Lebanese cucumbers 
2 small carrots 
½ avocado
Tamari, wasabi and sliced ginger, to serve
Teriyaki sauce
1 teaspoon maple syrup (or more depending on your preference for sweetness)
2 tablespoons tamari sauce 
2 tablespoons black and white sesame seeds, toasted
Method: 
Add 2 tablespoons of water to pan or wok. Add shitake mushrooms and cover with a lid to steam cook for 1 minute. Remove lid and add teriyaki sauce ingredients and continue to cook uncovered for about 1 minute. Once cooked, set aside.
Drain rice and quinoa. Add brown rice and quinoa to a saucepan with 2 cups fresh filtered water. Bring water to boil, then reduce to simmer. Cook for about 15 minutes, or until water is absorbed. Cover with a lid and stand for 5 minutes. Add apple cider vinegar and mix. Add mushrooms to rice/quinoa and mix well*.  Let rice and quinoa cool.
Meanwhile, slice cucumber, carrot, salmon, avocado and nori sheets into thin strips.
Once cooled, shape rice/quinoa mix into easter egg shaped balls.  Layover salmon, cucumber and carrot slices, avocado and nori, making a pattern.  Sprinkle sesame seeds over the top.
Serve Easter egg sushi with sliced ginger, tamari and wasabi.
* For vegetarians/vegans, don't add mushrooms to rice/quinoa and use for topping instead of salmon.
Pic: Nattyspantry.com