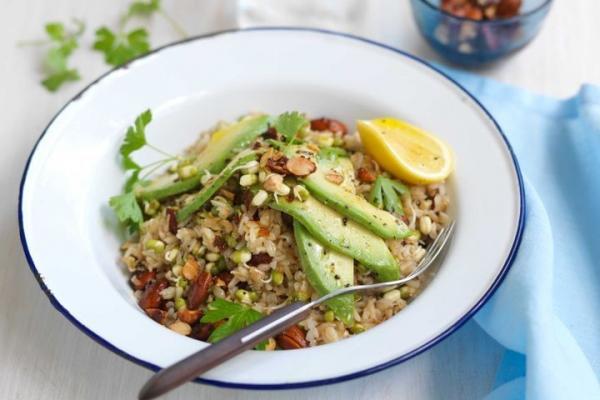 Detox recipe: brown rice salad
This salad contains nutrients which assist with detoxification including zinc, vitamins B & E, and magnesium. It's a perfect as an accompaniment to fish, chicken or turkey and can be made on a Sunday for work lunches. You could try mixing up the ingredients by using different vegetables such as roast beetroot, pumpkin or fennel, and herbs such as parsley, coriander and thyme. Be creative!
Ingredients:
½ cup brown rice (soaked overnight)
1 tablespoon sunflower seeds
1 tablespoon pumpkin seeds
¼ cup whole, organic almonds
3 zucchinis
Small bunch spring onion (finely chopped)
100g Broccoli or alfalfa sprouts
1/2 avocado, sliced
Small handful mint leaves, chopped finely
1/4 cup cold-pressed extra virgin olive oil
2 tablespoons lemon juice
1 tablespoon raw honey
Salt and pepper to taste
Method:
Rinse rice and place in a saucepan with 1 cup fresh filtered water.  Boil for 20 minutes or until water is absorbed. Turn off heat and cover for 10 minutes, then fluff with a fork. Transfer to a large bowl to cool.
Toast the sunflower seeds, pumpkin seeds and almonds over medium heat in a frypan for 1-2 minutes until lightly toasted. Add to the bowl with the rice.
Coarsely grate 2 zucchinis into a colander. Squeeze gently to remove excess water. Thinly slice remaining zucchini. Add grated and sliced zucchini to the rice mixture.
Roughly chop broccoli or alfalfa sprouts and add to rice mixture
Combine olive oil, lemon juice and honey in a small bowl and season with salt and pepper. Add dressing to salad and toss to combine. 
Serve salad topped with avocado slices, spring onion and mint.
For more information or nutritional advice from Melbourne Wellness contact us today!
Picture credit: taste.com.au