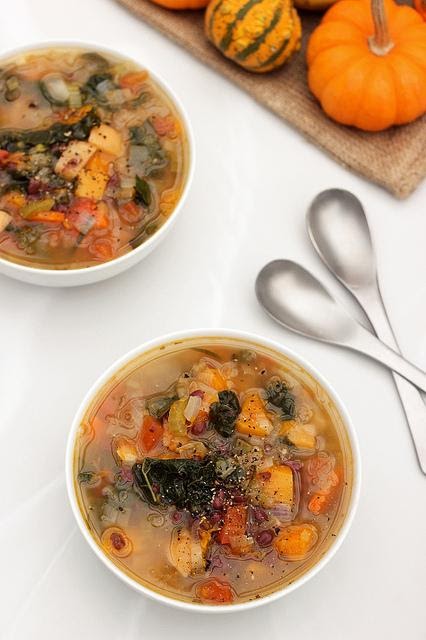 This soup contains ingredients with beneficial nutrients (Vitamins A & C) to support the immune system. It's also high in fibre and contains prebiotics to support digestion and gut health.  Ideal for cool autumn and winter nights, this soup will nourish you from the inside out! Recipe by our Melbourne Naturopath Lina Capovilla.
Serves 6.
Ingredients
1 tablespoon olive

1 large onion, chopped

1 large leek, finely chopped

2 celery stalks, chopped

6-8 cloves of garlic, minced

2 carrots, peeled and chopped

2 turnips or celeriac, peeled and diced

3 cups butternut pumpkin, peeled and cubed 

8-10 cups water or chicken / beef stock

Fresh herbs (such as rosemary and oregano, or whatever you have on hand)

3 roma tomatoes, diced

2 cups cooked adzuki/berlotti or cannellini beans (ideally dry, soaked overnight*) or any beans or legumes of your choice

1 bunch of kale or spinach, stems removed and leaves chopped

1-2 tablespoons apple cider vinegar

Pink Himilayan or sea salt and cracked pepper, to taste
*Dried beans which have been soaked overnight and then cooked are ideal. 
Method
Heat oil in a large pot over medium-high heat. Add the onion, leek, celery and garlic. Cook until veggies are opaque, stirring often. Add in the carrots, turnips/celeriac, pumpkin and fresh herbs. Continue to cook for 5-7 minutes, stirring often.

Add water/stock, tomatoes and beans, increase temperature to medium-high heat and bring to a light boil. Reduce to a simmer, cover and let soup cook over a low heat for 30-45 minutes. The longer it simmers, the more intense and rich the flavor will be. Season with salt and pepper to taste. 

Add the kale and apple cider vinegar in the last 2 minutes of cooking. Stir well and serve.