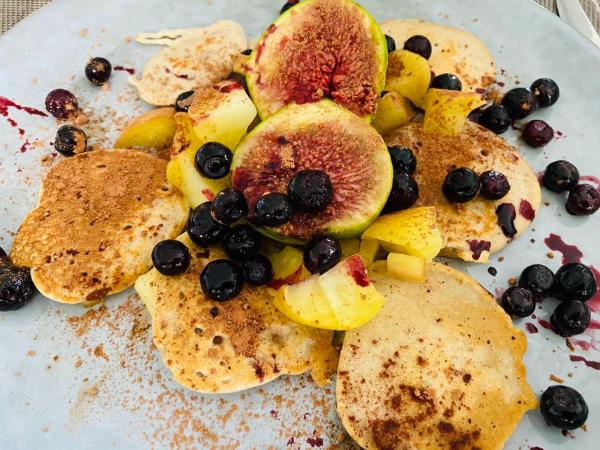 Breakfast is an important meal and influences our metabolism and blood sugar levels for the day. These 4 simple and easy breakfast recipes created by our Melbourne Naturopaths will provide you with sustained energy throughout the day. Let us know how you go making these tasty recipes, and tag #vitalchiwellness on your social media post!
Bircher Muesli
Serves 1
Ingredients:
¼ cup of rice flakes 

¼ cup milk alternative (oat, rice, almond – unsweetened) 

¼ cup grated apple 

1 TBS coconut yoghurt (mix with protein powder if you wish) 

1 tsp honey OR rice syrup 

¼ cup chopped mixed blueberries 

1 TBS sunflower seeds OR 1 TBS flaked almonds 
Method:
Soak rice flakes and seeds/nuts in milk or milk alternative.

Leave in the fridge overnight.

When ready to serve, mix through yoghurt, honey and fresh fruit.
Quinoa Porridge 
Serves 1
Ingredients: 
1 cupped hand of cooked quinoa

¼ cup your choice of milk alternative (oat, rice, almond – unsweetened)

1-2 tsp of rice malt syrup, maple syrup or honey

1 tsp of cinnamon

1 TBS sunflower seeds

1 TBS coconut yoghurt (mix with 1 scoop protein powder or collagen powder)

Berries, coconut flakes and ground flaxseeds (to serve)
Method: 
In a small saucepan place the COOKED quinoa, sweetener, cinnamon, sunflower seeds and milk of your choice and heat until just hot but not boiling.

Service with a cupped handful of berries, coyo mixed with protein powder, coconut flakes and ground flaxseeds.
Buckwheat pancakes
Serves 1
Ingredients:
5 tablespoon buckwheat flour 

2 tablespoon arrowroot flour

4 tablespoon brown rice flour 

2 tsp aluminum free baking powder 

Add rice/almond/soy milk or water until desired consistency (around ½ cup) 

1-2 tablespoons of coconut oil
Method:
Add 1 tablespoon of coconut oil to a fry pan. Add pancake mixture and cook until bubbles appear. Flip and cook other side until a nice brown crust forms. Add more oil if needed. Once cooked, remove from heat and place onto a plate.

Top with nut butter, stewed apple, berries or cacao powder. 

For a savory version, add miso and olive oil and serve with avocado and salad greens
Tofu scramble
Serves 2 
Ingredients: 
2 tablespoons olive oil 

150 gm tofu

1/2 tsp tamari

1/2 tsp ground turmeric

1/4 cup coconut milk or rice milk

1/2 cup capsicum chopped

1/2 cup leek finely chopped

1/2 cup purple cabbage

¼ cup sliced mushrooms

1 cup of green leafy veggies (spinach, silver beet, kale) finely chopped 

Salt and pepper to season.

Optional toppings: chilli, sesame seeds
Method:
Add olive oil to a pan over low heat. Add leek and capsicum and cook for 5 min, adding water if necessary. Add green leafy veggies, cabbage and mushrooms and continue cooking for 2 minutes. Continue adding water as needed.

Add remaining ingredients (tamari, turmeric, coconut/rice milk) to a food processor and blitz until combined. Add sauce to the pan with tofu and continue cooking for around 5 minutes. Season with salt and pepper

Serve scramble topped with sesame seeds and chilli (depending on taste).