What is Shiatsu Massage / Acupressure?
Shiatsu is a holistic health care treatment that incorporates acupressure, meridian muscle stretching and muscle exercises.
Shiatsu originated thousands of years ago in Japan. It has since been influenced by modern medicine but relies on the traditional Chinese healing principles of chi (energy flow), meridians and acupoints.
When you are healthy, chi flows freely throughout your body. However, when your body is imbalanced by poor diet, caffeine, alcohol and stress, the flow can be blocked or excessive in various places.
Our specialist shiatsu therapist will apply healing pressure through their fingers, thumbs, palms, elbows and forearms. This pressure promotes energy flow, releases tension and treats any imbalances within the body.  Treatment can also include gentle manipulation of the limbs and joints, realignment and muscle release.
Shiatsu is based on the idea that your body is self-healing and encouraging its natural resources to facilitate the flow of chi.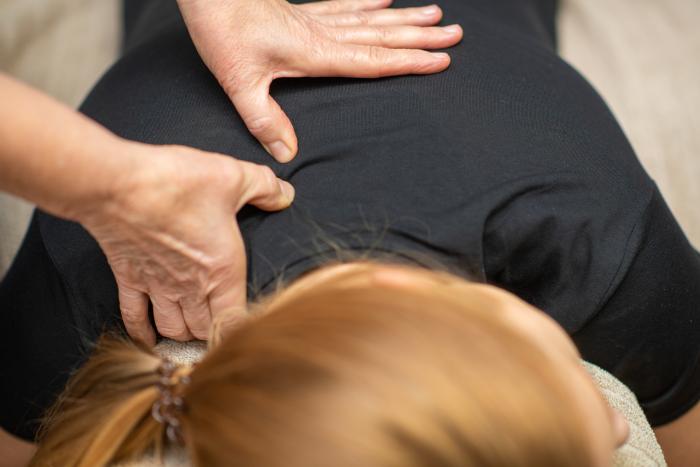 How can shiatsu / acupressure help me?
Shiatsu is a holistic treatment that promotes healing throughout your entire body. It is non-invasive and suitable for people of all ages.
Shiatsu can:
In addition to treating these ailments, shiatsu is amazing for your overall health and wellbeing. It is a deeply relaxing treatment that calms both your mind and body.
What can I expect in a shiatsu / acupressure appointment?
During your initial consultation your shiatsu therapist will discuss your medical history, any pain or discomfort and emotional stressors. Your state of chi will be assessed, and any imbalances noted so that a program can be tailored to your needs.
Your therapist will use special techniques to relieve muscle tensions and redistribute the flow of chi around the body. These techniques may include:
Manual massage therapy – applying varying pressure through the fingers, palms, forearms, elbows, knees and feet.
Stretching exercises
Muscle release techniques
They will focus particularly on areas that are causing you trouble but apply techniques to the entire body so that a holistic state of health is achieved.
Testimonials
I have been seeing Shiho for nearly 6 months. I found her really knowledgeable, caring, considerate and attention to detail. She is not just looking after the issue I have but also my "mindset" that she finds it connects to our body! She is like my soulmate who understands me a lot and gradually, she finds out the "cause" of my issue and tackle it with her treatment. I am really happy with her service and her positive energy.
Emily is an absolute angel. Not only has she transformed my skin to a better version of itself, she continuously imparts amazing knowledge on life which has directly and positively impacted my general well being. She is that healthy glow everyone needs in their life.
Valentine Paris
Melbourne
Start Your Wellness Journey
Call or Visit
We welcome all enquires and bookings.
Mon to Fri 9:00am – 6:00pm
Sat 8am - 4pm


Get In Touch with us today
We offer a free 15 minute consultation for all new customers.
Enquire about any of our services and book a consultation with one of our specialist therapists.