Reflexology and Cancer
Reflexology is a fantastic supportive therapy for people going through cancer. Cancer is not a new illness, it has been documented in pre-Columbian mummies and in Egyptian papyri.
While modern oncology intervention has its place in the medical field, it is also noted that modern medicine focuses on the part of the body that contains the cancer but not on the person, with emphasis on the symptom itself instead of the cause of the disease.
A holistic approach, on the other hand, treats the person as a whole entity rather than in sections of illness. After all, cancer affects the mind, body and spirit, so it makes sense that the whole be treated also.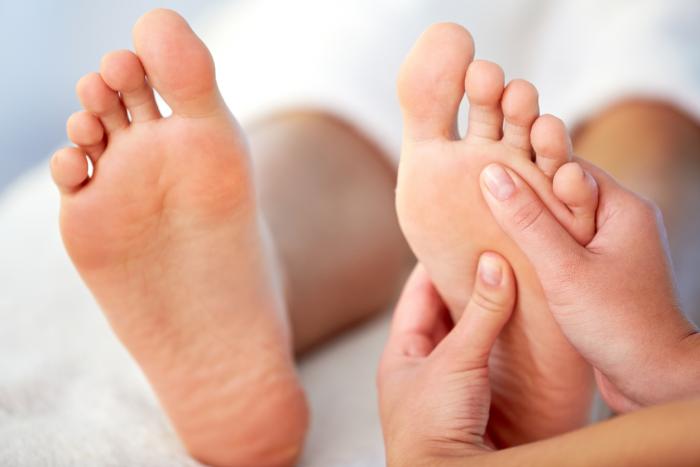 What is Reflexology?
Reflexology is an ancient healing art that treats a person holistically.
It is a special foot massage that works by applying pressure on reflex points that correspond to the parts, organs and glands of the body, thus providing a body massage without the need for taking the clothes off.
Research has discovered that reflexology helps alleviate anxiety and pain for patients with cancer. Even a short treatment can provide relief from pain and nausea, particularly when undergoing chemotherapy and radiotherapy.
Interestingly a sketch has been discovered in an Egyptian pyramid by a scientist showing a man massaging another man's foot; maybe he was having some reflexology to help alleviate pain and anxiety!
How can a Vital Chi Practitioner help me?
Mafalda our highly experience Reflexologist has been working as a Reflexology Volunteer with cancer patients over the last 5 years at the Peter Mac Callum Cancer Centre in East Melbourne. She is highly experienced when it comes to supporting the physical and emotional needs of people experiencing cancer.
What others have to say…
What have others said about Mafalda's treatments?
The feedback from patients, carers and staff has been hugely rewarding for Mafalda, which is her inspiration for her continual commitment to the Peter Mac Centre. It is also very rewarding to know that Oncologists appreciate the Volunteer's dedication in the CDU.
Patients have reported that reflexology is very effective in:
Reducing aches and pains
Promoting a deep state of relaxation
Reduced stress and tension
Reducing swelling and lymphoedema
How can Reflexology Help Me?
Reflexology is designed to help patients cope on three levels:
Physical, Mental and Emotional.
Physical benefits include:
Improved appetite
A sharper sense of taste
Improved quality of sleep
Increase in energy levels
Reduced Lymphoedema and fluid retention
Improved post treatment detoxification
Improved lymphatic circulation
Stronger immune system
Mentally and emotionally research has proven that Reflexology helps:
Reduce depression associated with cancer
Reduces anxiety associated with cancer
Please note that Reflexology does not claim to cure cancer. Reflexology simply stimulates the body to help heal its self. Reflexology, however, does provide great emotional, spiritual and physical support to patients with any type of cancer in any stage of illness, whether undergoing treatment, or in remission.
Testimonials
I was in the midst of a personal crisis, or what I believed was a personal crisis, I turned to Daniel for help, and was introduced to MiCBT... MiCBT taught me how to deal with negative thoughts, in a positive way, without medication. MiCBT is now in practice every day of my life, I owe a lot to its teacher, and its design.
Our business would not be the same, the magic you wield and the results you have made with us are truly incredible. You have an amazing ability to get to the core of a situation and gently but firmly guide us to resolve and heal this.
I am no longer on painkillers and I haven't had to go to the hospital. The pain is something in my past. The pain relief wasn't immediate but I had waited 15 years so for me it was immediate. I noticed a decrease in pain straight away and it continued to lessen as time went on.
Exactly what I wanted, I blissed out and relaxed, what a great way to start the weekend. I loved the dim lighting, soothing music, warm towels and warm massage table... brilliant practitioner and friendly, professional atmosphere.
I have been hive free for over three months and I am able to reintroduce the foods that were causing problems as well as continuing on important supplements and vitamins that promote a good immune system and nutrients. I have not felt this good in a very long time. I am completely back to the confident and happy person that I have always been.
After my treatment I felt like my whole body was moving and supporting itself to move more naturally.
As my naturopath, confidant, and mentor, Daniel has guided me to explore all of life's possibilities and strive for freedom. For his unconditional support and encouragement, I will remain eternally thankful.
I feel the best I have felt in years. I have more energy and my mood and concentration have improved considerably. Not to mention getting my cycle back which I hadn't had for a couple of years.
Start Your Wellness Journey
Call or Visit
We welcome all enquires and bookings.
Mon & Fri 9:00am – 6:00pm
Tue, Wed & Thur 9:00am – 7:00pm
Sat 9:00am – 2:00pm
Sun Closed
Send Us A Message
Enquire about any of our services and book a consultation with one of our specialist therapists.