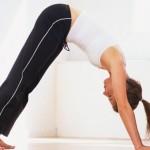 Time for a Postural Fitness Upgrade
Let's Get Back to Our Best this Spinal Health Week (20-26 May) Postural fitness is one of the new buzz words of healthy lifestyle thinking – and for good reason. Over 2 million Australians experience back problems every year and postural fitness is one of the most powerful ways to address preventative health.
Postural fitness means optimal spinal alignment. It gives you greater strength and endurance, better coordination and balance. Postural fitness helps you lead an optimal healthy lifestyle; reduce muscle fatigue and improve your postural endurance. May heralds the launch of Let's Get Back to Our Best, a national initiative of the CAA that aims to encourage Australians to support more investment in Chiropractic care and research. As we all know, back pain has serious consequences for families, lifestyle and employment. People with back problems report 2.5 times more disorders, such as depression.
To show your support for the campaign, visit our Facebook page at www.facebook.com/vitalchiwellness. We post lots of great information on health and fitness, including our upcoming Fun Run program. Also as part of Spinal Health Week 2013, Chiropractor Dr Megan Azer will be encouraging patients and the Blackburn community to improve their postural fitness. We suggest you pick an exercise plan to strengthen your core muscles such as pilates (to build strength and improve your breathing); or yoga (to develop good balance and flexibility) or swimming (to improve muscle endurance, strength and resilience). In addition there are small changes you can make to your routine which will improve your postural fitness – at home, at work and in transit. Many of us spend long periods of time sitting.
Sitting too long can:
Increase the stress on the discs between your vertebrae;
Cause the natural curve in your back to deteriorate;
Reduce the function and stability of your spine;
Lead to inflammation, pain and possible early degeneration of your spine.
Chiropractors often get asked how to sit right at the computer desk. Some general tips for work are:
Try standing when you're on the phone for extended periods;
During meetings take regular stretch breaks;
While you're working at your computer take short breaks to stretch and stand;
Check and adjust your position regularly.
An active spine is a healthy spine and a healthy spine leads to a healthier life. Why not use Spinal Health Week to make an appointment with our clinic to assess your postural fitness and discuss how being more active will improve your wellbeing?
During the Month of May Dr Megan Azer is offering FREE 15min Spinal and Posture checks at the centre. She is also offering to conduct workplace health presentations to educate local businesses and their staff.
To improve your postural fitness, contact Vital Chi Wellness on 9894 0014 for an appointment today. Spinal WeekGet your back right!